Evaluating Audio Visual Speech Perception
Evaluating Audio Visual Speech Perception
0( 0 REVIEWS )
0 STUDENTS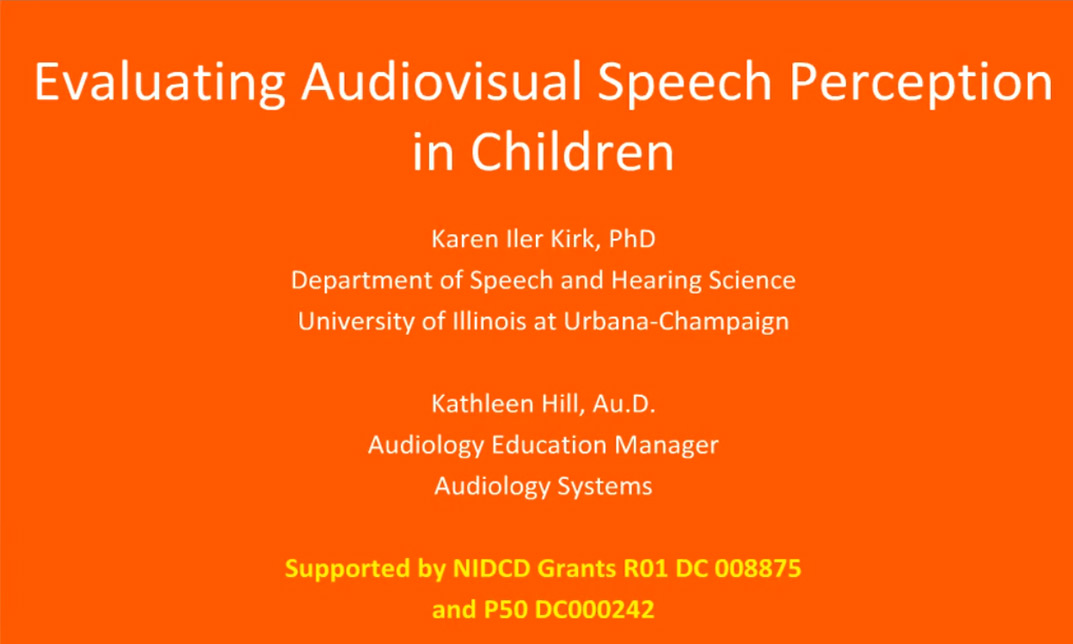 Evaluating Audio Visual Speech Perception in Adults and Children
Under natural conditions, listeners use both auditory and visual speech cues to extract meaning from speech signals produced by different talkers. However, traditional clinical tests of spoken word recognition routinely employ isolated words or sentences produced by a single talker in an auditory-only presentation format. We have developed new theoretically-motivated tests of audiovisual sentence recognition. Both the Multimodal Lexical Sentence Test for Adults™ (MLST-A™) The Multimodal Lexical Sentence Test for Children™ (MLST-C™) contain sentences with key words that are independently controlled for the lexical characteristics of word frequency (i.e., how often a word occurs in the language) and lexical density (i.e., the number of phonemically similar words, or neighbors, to the target word). To incorporate the kind of variability that listeners encounter in the real world, the sentences were drawn from stimuli produced by five male and five female talkers. The tests can be administered in a visual-only (V), auditory-only (A) or auditory-plus-visual (AV) presentation format. This presentation will describe test development and the psychometric properties of the tests including list equivalency, test-retest reliability and validity. Performance data will be presented for three different groups of adult and child participants: persons with normal hearing, persons with hearing loss who use cochlear implants, and persons with hearing loss who use a hearing aid. The clinical availability of this testing using the Madsen Astera2 by GN Otometrics will be discussed.
Learning Outcomes
Participants will be able to discuss new tests of audiovisual speech understanding, including their psychometric properties.
Participants will be able to describe the importance of visual speech cues to spoken word recognition.
Participants will be able to discuss the effects of residual hearing and sensory aid use on auditory-only and auditory-visual speech perception.
PLEASE NOTE: This course is maintained on Audiology On-Line www.audiologyonline.com
Course Reviews
5 stars

0

4 stars

0

3 stars

0

2 stars

0

1 stars

0
No Reviews found for this course.